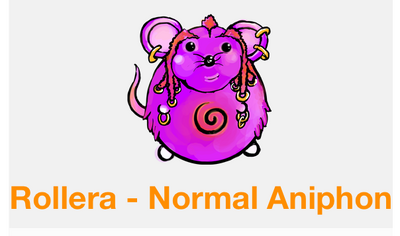 Rollera
is a
Normal
Aniphon
.
DescriptionEdit
Profile info: "These small rodents known as Rollera are quite common in urban settings as well as rural townships. Since they are at home in tall grass as they are hiding beneath structures, there is a global overabundance of these creatures. You can tell when one is nearby by the telltale shriek it emits. Beware: sometimes these creatures travel in packs!"
Wild Conditions/InfluencesEdit
Strengths and WeaknessesEdit
None.
AbilitiesEdit
Rollera's Health by Level

| Level | Health |
| --- | --- |
| 1 | 85 |
| 2 | 91 |
| 3 | 99 |
| 4 | 107 |
| 5 | 115 |
| 6 | 124 |
| 7 | 135 |
| 8 | 145 |
| 9 | 157 |
| 10 | 169 |
| 11 | 183 |
| 12 | 198 |
| 13 | 214 |
| 14 | 231 |
| 15 | 249 |
| 16 | 269 |
| 17 | 291 |
| 18 | 314 |
| 19 | 339 |
| 20 | 366 |