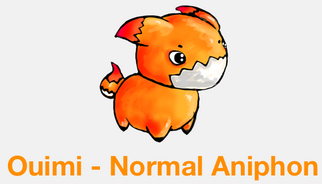 DescriptionEdit
Profile Info: "The Ouimi come from a proud a line of Aztec dog warriors that have existed in secret for many years. They are are one of the more exotic normal type creature currently known to exist around the world. Their specialties include normal, earth, and fire type attacks. An Ouimi will rarely run from a battle.
Wild Conditions/InfluencesEdit
Strengths and WeaknessesEdit
None.
AbilitiesEdit
Ouimi's Health by Level

| Level | Health |
| --- | --- |
| 1 | 70 |
| 2 | 75 |
| 3 | 81 |
| 4 | 88 |
| 5 | 95 |
| 6 | 102 |
| 7 | 111 |
| 8 | 119 |
| 9 | 129 |
| 10 | 139 |
| 11 | 151 |
| 12 | 163 |
| 13 | 176 |
| 14 | 190 |
| 15 | 205 |
| 16 | 222 |
| 17 | 239 |
| 18 | 259 |
| 19 | 279 |
| 20 | 302 |